Abu Dhabi Events : January to April
DATE

EVENT

20 JAN

ABU DHABI CLASSICS: REBECA OMORDIA: PIANO RECITAL 'AFRICAN PIANISM'

16 JAN - 22 JAN

ABU DHABI GOLF CHAMPIONSHIP 2023

28 JAN

BLACKPINK WORLD TOUR [BORN PINK] ABU DHABI

Get excited, K-Pop fans! The ever-popular girl group

Blackpink are bringing their world tour to the Middle East

09 JAN - 20 MAR

DIGITAL ART WORKSHOPS WITH JALAL LUQMAN

Heavily dependent on technology, digital art has changed and adapted to every vehicle, medium and

26 JAN

IMAGINE DRAGONS 'MERCURY WORLD TOUR'

GRAMMY- winning, multi-Platinum band Imagine Dragons bring their massive Mercury World Tour to Yas Island, Abu Dhabi.

06 JAN - 12 FEB

INTERNATIONAL LEAGUE T20 (ILT20)

If you love cricket, then be prepared to be hit for six in

International League T20 (ILT20).

07 JAN

JIMMY CARR AT ETIHAD ARENA

UK Comedian Jimmy Carr performs in Abu Dhabi for the

first time.

06 DEC - 06 JAN

PEARLS OF WISDOM AT QASR AL WATAN

On the sidelines of the third edition of the Abu Dhabi

Manuscripts Conference, DCT Abu Dhabi is hosting the Pearls of Wisdom exhibition

14 JAN - 04 FEB

TILAL SWAIHAN

Tilal Swaihan is a tourist destination and a recreational campsite, where can carry out activities such as cycling

and modified car racing.

22 JAN

SENSORY EXPLORATIONS TRIP: DESERT WITH NAHLA TABAA

08 JAN

SENSORY EXPLORATIONS TRIP: UAE FLOWER FARM WITH MOZA AL MATROOSHI

27 JAN

STING: MY SONGS TOUR
DATE

EVENT

21 FEB - 26 FEB

ABU DHABI PADEL MASTER 2023

The United Aram Emirates will host the World's Best Padel

Players at the first-ever WPT Abu Dhabi Padel Master Tournament in 2023.

23 FEB

A DATE WITH THE ARTISTS

A unique opportunity to attend a private tour of the

'Life is a Circus' exhibition with the 22 participating artists.

03 FEB - 04 FEB

BARZAKH FESTIVAL 2023

Discover new global sounds as powerful tradition-bearers

and genre-shattering musicians converge .

20 FEB - 24 FEB

INTERNATIONAL DEFENCE EXHIBITION AND CONFERENCE (IDEX) 2023

10 FEB - 11 FEB

INTERNATIONAL INDIAN FILM ACADEMY (IIFA) WEEKEND & AWARDS

22 FEB

KEVIN HART: REALITY CHECK

Emmy and Grammy nominated Comedian Kevin Hart will be bringing his 'Reality Check' worldwide tour for a UAE.

26 FEB

UAE TOUR 2023

The UAE Tour demonstrates the UAE's capabilities in

international sport and highlights its role in bringing people together in the UAE

10 FEB

YAA SAMAR: THE LAST WARD AT NYUAD ARTS CENTER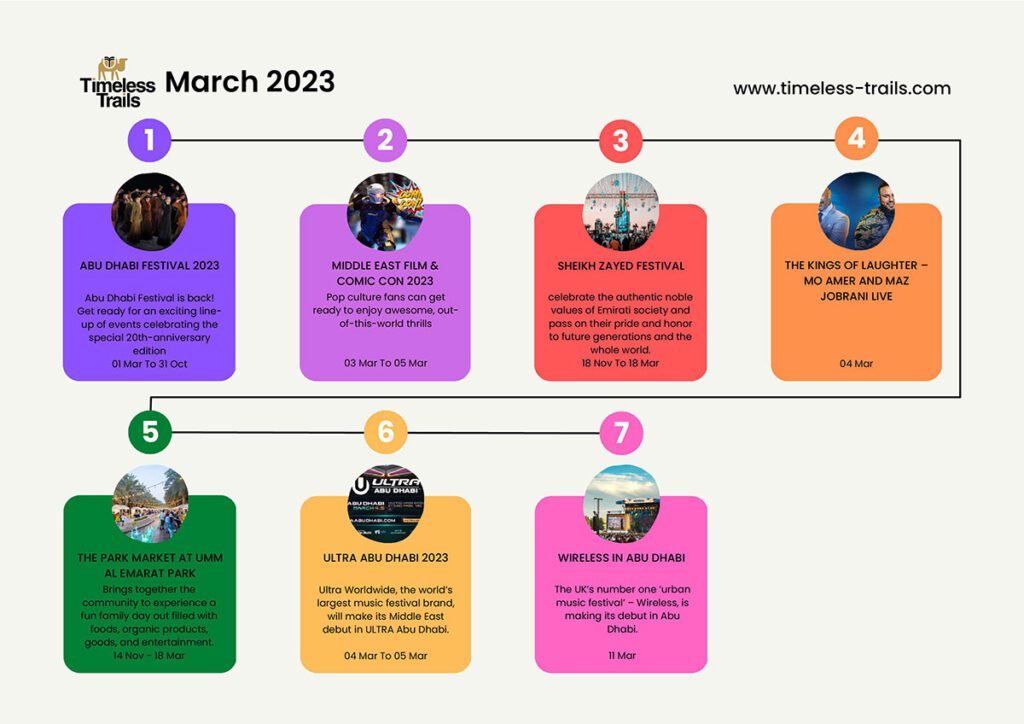 DATE

EVENT

01 MAR - 31 OCT




ABU DHABI FESTIVAL 2023

Abu Dhabi Festival is back! Get ready for an exciting lineup

of events celebrating the special 20th-anniversary edition

03 MAR - 05 MAR




MIDDLE EAST FILM & COMIC CON 2023

Pop culture fans can get JOBRANI LIVE ready to enjoy awesome, out-of-this-world thrills

18 NOV - 18 MAR




SHEIKH ZAYED FESTIVAL

Celebrate the authentic noble values of Emirati society and

pass on their pride and honor to future generations and the

whole world.

04 MAR

THE KINGS OF LAUGHTER – MO AMER AND MAZ JOBRANI LIVE

14 NOV - 18 MAR




THE PARK MARKET AT UMM AL EMARAT PARK

Brings together the community to experience a fun family day out filled with foods, organic products, goods, and entertainment.

04 MAR - 05 MAR




ULTRA ABU DHABI 2023

Ultra Worldwide, the world's largest music festival brand,

will make its Middle East debut in ULTRA Abu Dhabi.

11 MAR




WIRELESS IN ABU DHABI

The UK's number one 'urban music festival' – Wireless, is

making its debut in Abu Dhabi.
| DATE | EVENT |
| --- | --- |
| 27 APR - 30 APR | 'FIQ!' AT NYUAD ARTS CENTER |
| 04 MAR | THE KINGS OF LAUGHTER – MO AMER AND MAZ JOBRANI LIVE |